Platinum Security Package
From only $3699 $3099*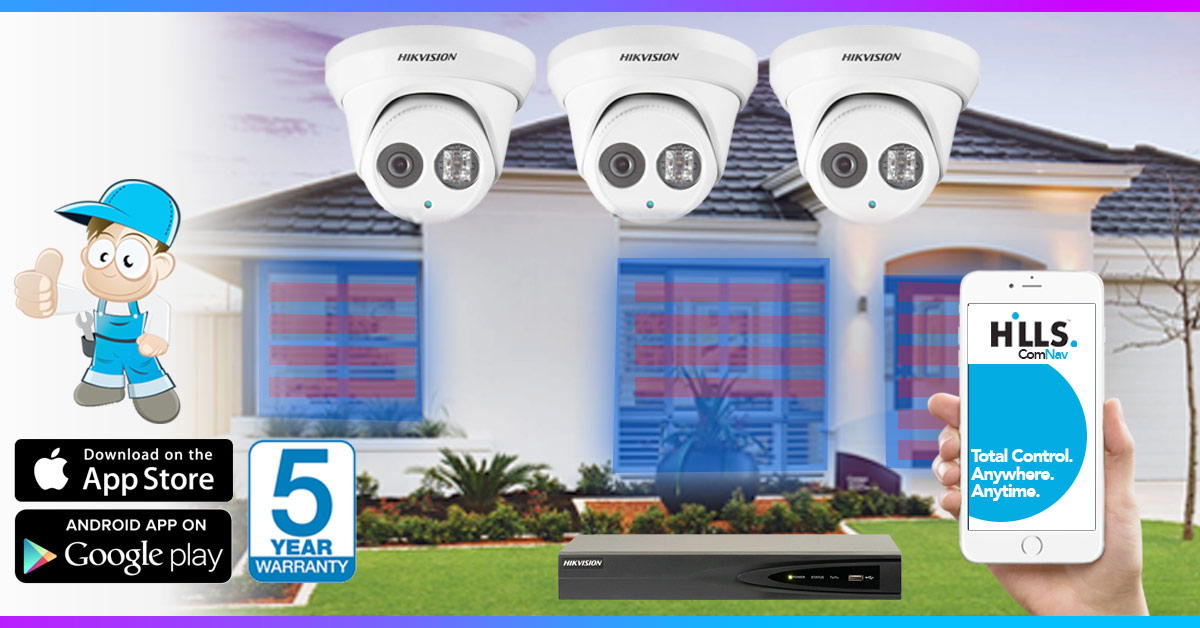 Our Platinum Security Package offers the highest level of protection at heavily a reduced price.
This security system provides complete coverage of your home and business by combining 4 powerful products:
Security Cameras
Internal Alarm System
Perimeter Alarm System
App Control Alarm via ComNav (get updates and control your alarm from your phone)
Security Cameras
Hikvision is the global leader when it comes to security cameras. We are WA's biggest installer of Hikvision products, this is why we can offer such great prices. This system comes with 3 x 6MP HD security cameras that deliver crystal clear quality in the day and night.
Internal Alarm System
Hills are the safest and most widely used alarm system in Australia. This package has a 3 zone internal alarm system that is sufficient for 90% of homes. It also comes with an R8 Control panel that makes it easy to add more zones if needed.
Perimeter Alarm System
If you want protection while you're home a perimeter alarm is needed. It works by adding sensors to doors and windows so if anybody tries to gain entry the alarm is triggered. It's by far the most effective way to scare off anyone trying to get into an occupied house.
App Control Alarm
This system also has a Hills Reliance ComNav which allows you to control your alarm from anywhere via your smartphone. This removes the need for costly monitoring services, as well as giving you more control over the alarm when you're not home. If the alarm is triggered you will automatically be notified, or if you forget to arm it on the way out you can easily open the app and arm or disarm it from anywhere. Combining a Perimeter alarm with a ComNav provides complete peace of mind.
If you're interested please call us on (08) 6244 5188 or fill out the contact form on this page. Don't forget to mention this special to get the best price.
Platinum Security Package
Security Cameras + Internal + Perimeter Alarm + App Controlled Alarm
24/7 Notification straight to your phone
No ongoing costs or 3rd party services
Email Push Notifications
1 x ComNav Ip Module
1 x HILLS XR 8 Zone control panel
1 x VoiceNav Lite Keypad (128 Zone Capable)
3 x Infrared Detectors
4 x Reed sensors to fixed entry doors
2 x remotes
1 x Battery Back-up
1 x Internal Siren
1 x External Siren
5 year warranty
Instruction, User Manual & Stickers
No Contracts
24 Hour Service
Monitoring Optional
Insurance Approved
Qualified Installers

CCTV System
Hilook 4CH PoE NVR
3 x 6MP HD Day/Night HiLook Cameras
Networkable 3TB Hard Drive with PoE
1 x 5m HDMI cord to TV
Training
36 month parts warranty
Qualified Installers
Insurance Approved
Networkable
Easy to use
Usually $3699
From Only $3099* fully installed
Need a custom system/quote?
No problem, contact us and we can create an Alarm System to suit!